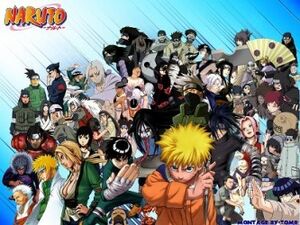 Naruto is a japanese cartoon series. The series is about the story of a charachter Naruto Uzumaki and nine tailed fox.
The nauto book was first published as a news in 1999. Now the book is been serialized weekly. A new chapter appears every week. Now, more than 560 chapters have been written.
Writers and Editors
Edit
The series was first written by Shueisha in 1999. Now it is being illustrated by Masashi Kishimoto.
Charachters
Edit
1. Naruto Uzumaki
2. Sasuke Uchiha
3. Minato Namikaze
4. Kakashi Hatake
5. Itachi Uchiha
6. Sakura
7. Zetsu
8. Fugaku Uchiha
9. Otoga Karu
10. Orouchimaru
11. Kabuto Yakushi
12. Kisame Koshigake
13. Deidara
14. Sasori
15. Zetsu
16. Tobi
17. Senju Hashiram
18. Danzo Hashirama
19 Hidan
20. Kakuzu
21. Pain
22. Konan
23, Taka
24. Zabuza Mamochi
25. Kiba Inizuka
26. Haku
27. Akamaru
28. Shikemaru
29. Hinata Hyuga
30. Kurenei Yuhi
31, Shino Aburame
32. Choji Akinichi
33. Ino Yamanaka
34. Asuma Sarutobi
35. Hiruzen Sarutobi
36. Ten ten
37. Neji
38. Rock Lee
39. Tsunade
40. Gaara
41. Kankuru
42. Temari
43. Kurama
44. Killer Bee
45. Sai
46. Yamoto
47. Jiraiya
48. Ebisu
49, Konohamaru
50. Shizune
51. Iruka
Foxes
1. Nine Tailed Fox
2. Eight Tailed Fox
3. Seven Tailed Fox
4. Six Tailed Fox
5. Five Tailed Fox
6. Four Tailed Fox
7. Three Tailed Fox
8. Two Tailed Fox
9. One Tailed Fox