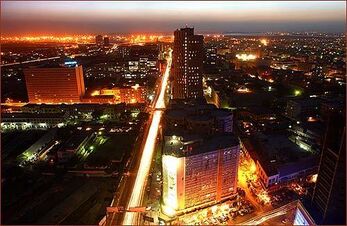 Karachi, the largest city of Pakistan and 2nd largest city of the World is situated in the south of Sindh Province in Pakistan.
Karachi is a commercial and industrial city which provides more than half of the total income of Pakistan. It is also known as city of universities because it contains a variety of universities situated in it. It has the basic position in the trade of Pakistan. It is the largest seaport of Pakistan.
Many centuries have been past since Karachi was a small village which was settled by the traders from Balochistan. They named it as Kolachi-jo-goth. They settled this village for their trade and commercial purposes. After some period They started trading with several other countries such as Persian Gulf. The city began to grow bigger and bigger. Now Karachi was made a dry port. The traders also prevented their village by constructing a small fort around it.
Rule of BritishEdit
The British conquered Kolachi for their own purposes in 1983. in 1984, They made the Karachi the capital of Sindh. Its population was more than 9,000. The British divided Karachi into two poles i.e the black town and the old town.